3 Things About This Book
| Graphic Novel | Gorgeous, Detailed Art Style | Prelude to Lovecraft's The Strange High House in the Mist |
---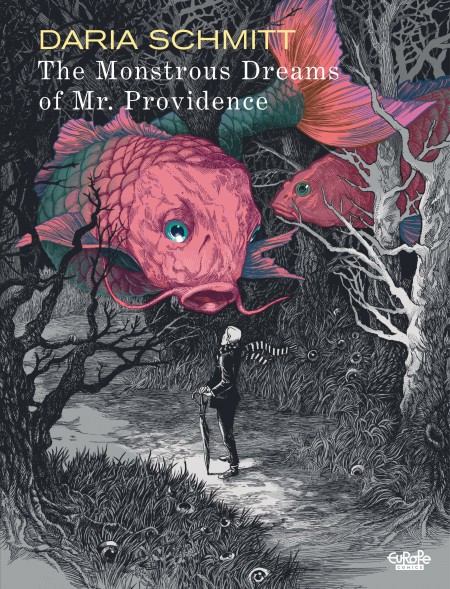 The Monstrous Dreams of Mr. Providence by Daria Schmitt
Published: 2022 by Europe Comics
Genre(s): Graphic Novel, Fantasy
Pages: 352
Format: E-galley
ASIN: B0B34W2ZN2
Goodreads
Amazon
Europe Comics
---
---
An absolutely gorgeous graphic novel by Daria Schmitt. I loved the contrast between the monochrome reality and coloured surreal world, and how, instead of black and white, colours are used as an indicator of something horrific happening. The art style creates a strong atmosphere in The Monstrous Dreams of Mr. Providence.

However, I'm not too entirely sold on the notion that this graphic novel is a prelude to Lovecraft's The Strange High House in the Mist (the short story is included in its entirety within the graphic novel), as there seems to be a disconnect between the two despite elements linking them. I keep feeling as though there is a deeper, more complicated meaning to the graphic novel and Lovecraft's short story, but am simply unable to decipher what that meaning is right now. One day, I'll return to this and hopefully figure it out.
Thank you so much Europe Comics and Netgalley for providing me a copy of this in exchange for an honest review!
| BOOKSTAGRAM | GOODREADS | POETRYGRAM |